When we say "Lucknow" what comes to your mind? The city of  Nawabs, the mouth-watering  Mughlai cuisine-the kebabs, and Biryanis and the beautiful hand embroidered Chikankari dresses.
So let's check out this beautiful piece of art.
Region & Origin:
Nur Jahan herself was said to have been a fine embroideress. She patronized the art and its literature and would make Beautiful Chikan embroidered fabric.
Nur Jahan and Jahangir both loved chikan work and had established several workshops training artisans to perfect this handcrafted art form in India.
After the downfall of the Mughal Empire,  these artisans spread all over India, but Lucknow become the hub of Chikankari, hence is also known as Lucknawi Chikankari.
Primarily used to decorate clothes and enhance its beauty, Chikankari is now also used to decorate table linen, cushion cover, pillow covers, bed linen, and a lot of other products.
Base fabrics used:
Traditionally chikankari done only on pure, un-dyed white cotton or Dhaka muslin fabrics, both sourced from Dhaka, Bangladesh.
The katcha daagha i.e., the thread used for the embroidery, was also white and procured from Calcutta(now Kolkata) or Dhaka.
Today, Chikankari is being done on a variety of fabrics such as chiffon, silk, organza, georgette, semi-georgette, crepe, cotton, and many others.
Chikankari is said to be one of the most favorable choices for summers.
MOTIFS: The source of most design motifs in Chikankari is Mughal, which draws their inspiration from Persian designs. The theme for most of the motifs today is stylized articulations of the Mughal time.
The most common motif used in Lucknowi Chikankari is that of flowers and paisleys that depict the stories of nature. Floral motifs such as rose, lotus, jasmine, and flowering stems, creepers are also block printed on fabrics.
Let us take you to the mesmerizing motifs, which are used to create exquisite designs.
Types of Motifs:
1.Natural: Paisley, floral, Palm Leaf, Grass Stalks, Petal Motifs
2.Geometrical: Various shapes
Natural: The themes inspired by nature.
Paisley Motif: It is molded like a bead or kidney bean. It can also be compared to the shape of a mango. The symbol of paisley was called boteh (the Persian word for bush or bunch of leaves)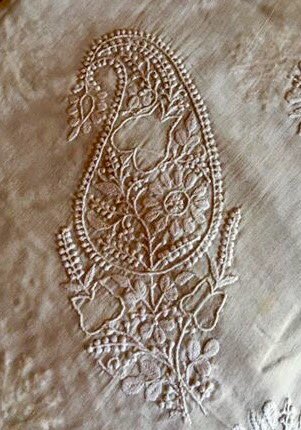 Floral Motif: Floral motifs continue to be an essential part of this embroidery, due to the substantial impact of Persian art.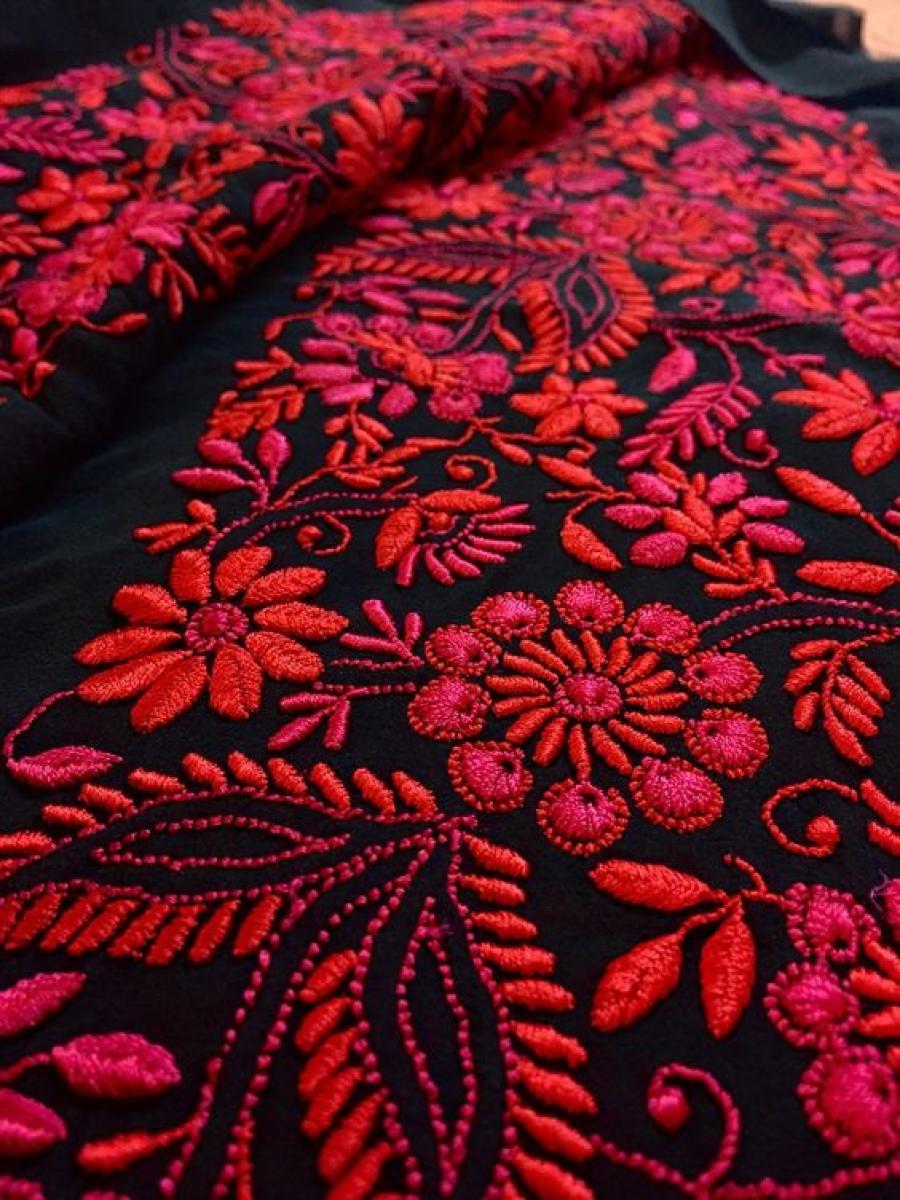 Palm Leaf motif: The paisley motif is formed along with stalk and leaves. It can be described as the imitation of Paisley motifs.
2. Geometric Motif: Motifs using different geometrical shapes, for example, lines, circle, squares, square shape, triangle, are called geometrical themes.
Techniques/how is it made?
The Chikankari process is an amalgamation of skill and hard work and has three essential steps are as follows1.
1.Block printing
2.Embroidery work
3.Washing and finishing
Let us look at each of these steps in details
1.Block printing-
Block printing is simply printing of designs on a fabric surface using blocks.
The base fabric to be worked on is chosen.
Wooden blocks of the desired designs are craved out.

Wooden blocks being carved out

Started as a white-on-white embroidery form by Nur Jahan, now we can see a variety of colors in chikankari.
The wooden blocks are dipped in the color solution, which is made by mixing glue and indigo and then printed on the fabric.
There are different blocks for different motifs.
The printed fabric is now ready for the embroidery work.
2. Embroidery  work:
The embroidery is done over the block printed design pattern using needle and thread.
This fabric is tightly fixed part by part within a small frame called 'Adda.'
The artisan creates traditional patterns using different stitches.
There are certain rules of stitching to be followed by the chikan artist.
The stitching style is preferred according to the pattern of embroidery.
3.Washing and finishing:  The embroidered fabric washed to remove the block printed color and other impurities.  it is then starched and dried to obtain stiffness.
4.Additional Embellishments ( if any):
In the recent past, Chikankari has adapted to the new age styles with additional embellishments such as badla work, sequin, mirror, and beadwork that give the fabric a royal, rich look.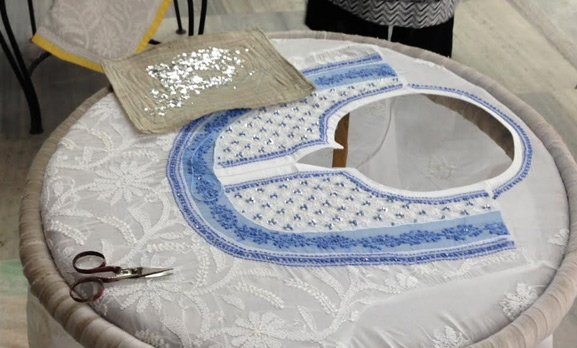 The significant use of beads, sequin and mukaish (white flat silver strip embroidery) have gained wide acceptance.
Depending on the type of garment and the pattern to be embroidered the entire process happens in a series of stages over a period of several days or even months.
Types Of Chikankari Stitches:
Chikankari has 3  basic stitches and over 35 derivative stitches used in various combinations based on what the pattern to be embroidered requires.
The three basic type of stitches:
Flat Stitches– These are subtle and remain close to the fabric.

Flat Chikankari

Embossed Stitches– These give a grainy appearance. They are bolder stitches as compared to the flat stitches. It involves more labor due to intensive work with intricate artwork.

Embossed Chikankari

Jali work- created by thread tension to give a very delicate and intricate net dramatic effect.
The various other types of lchikankari stitches are: Pechani, Bijli, Ghaspatti, Makra, Kauri, Hathkadi, Banjkali, tepchi,Sazi, Karan, Kapkapi, Madrazi, Bulbul- chasm, phanda,Taj Mahal, Zanzeera, Kangan, Dhania-patti, Rozan, Meharki, Chanapatti, ghaas Patti,Baalda, Jora, Keel Kangan, bulbul, sidhaul, ghas ki patti etc.
Care And Instructions:
Lucknowi Chikan embroidery should ideally be dry cleaned, though this depends more on the base fabric used.
If the base fabric is silk it needs to be dry cleaned, but others, like cotton, can be hand washed.
So, the next time you wear a pure chikankari, remember that you would be wearing the Mughal Empress- Nur Jahan's renovated masterpiece.
Recommended: Indian Chikankari Adorned Worldwide

             Best Colourful Chikankari: In a Celebrity Way